Love On The Docks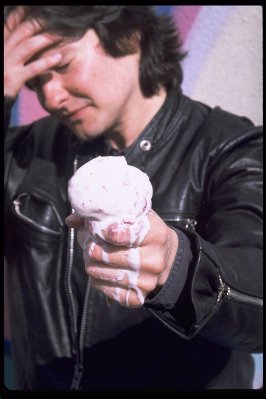 Johnny was a bad boy,
One time he kicked my ass!
He liked lighting fire and he loved breaking glass.
He owned a motorcycle before anybody else,
But now everybody says
He ain't his usual self no more,
No, no, no, no.
Old Johnny ain't himself,
He ain't himself no more.

Well Charlie is a nice guy,
He wants to be a priest.
Goes to the semenary for his weekly feast.
A change in his lifestyle made him altar his vows,
Yeah, he's sharing sunday ham with a rabbi now.
He kneels down!
Then he turns around,
They all love downtown where the men,
They really get down.

Love on the docks - real men working hard!
Love on the docks - unload some beef in the can
Love on the docks - send all the lackeys out for hardware,
Love on the docks - where a man is a man.

Love on the docks...

Benjamin is sensitive,
He wants to be an actor.
He sleeps with older women for the maxi­padded factor.
He powders his heinie and he sprays his truffled hair,
But Doctor Jones says you'd better buy a coffin next year,
Or an urn.
A pretty little urn.
Just one more small time fudgesmith too easily burned.

Love on the docks - face north and I shall follow,
Love on the docks - I annoint thee percival.
Love on the docks - they ain't afraid to swallow,
Love on the docks - come take a bow right now.

Love on the docks - oh, they're swordfighting in the men's room,
Love on the docks - you'll be bleeding like a bitch.
Love on the docks - fresh bottled turkeyneck awaits you,
Love on the docks - yeah, you'll always have an itch.

Love on the docks...

© copyright 1992 Chris Giunta